We know that air travel is a very important part of your journey. And airlines are working diligently to make your flights safe. We urge you to visit your airline's website to learn about the measures they are taking and to understand their policies. At the bottom of this page you will find links to safety protocols for major carriers. Note that Tauck has no control over specific carrier policies and requirements related to COVID-19.
When Tauck books your international flights, we are able to assist you in the event of an unexpected travel disruption or airline schedule changes. See below for more information.
WHAT TO EXPECT
If you have not flown during this period of COVID-19, the following will provide an idea of what to expect. Be aware that your experience will vary by location and evolve over time:
Don't Expect Empty Airports: The number of airline passengers has slowly increased and is expected to continue to do so.
Face Coverings in Terminals: Although most airlines require all passengers to wear face coverings in flight, this policy does not always extend to the terminals, including public areas, shops, restaurants and restrooms. Many airlines require face coverings at the check-in counter.
Airline Health Screenings: Some airlines are taking temperature readings prior to boarding. Increasingly, airlines are requiring passengers to complete an online "health acknowledgment" before check-in to confirm, for example, that you have had no symptoms of COVID-19 in the previous 14 days and that you will sanitize your hands before boarding.
Boarding Your Plane: Airlines are handling boarding differently to enable physical distancing. All airlines require face coverings during the boarding process. Most airlines board aircraft from the back rows forward to avoid crowding in the aisles.
Seat Spacing: Initially, many airlines were keeping middle seats empty but this is becoming less common as more travelers take to the skies.
Enhanced Cleaning: All carriers have implemented enhanced cleaning procedures including the use of hospital-grade disinfectants. Planes are undergoing more cleaning and disinfecting between flights and deep cleaning over night.
Cabin Air: Many airplanes have HEPA filters that continuously refresh the cabin air throughout the flight and filter over 99 percent of airborne viruses, bacteria, and other contagions.
Onboard Food: Meals from cabin galleys have generally been eliminated. Some airlines are providing snacks and beverages in sealed bags. Do not expect any snacks or beverage service on shorter flights.
Entertainment and Seat-Back Literature: Most airlines have eliminated in-flight magazines. Some airlines have either moved their video entertainment to their apps or enable your personal electronic device to act as a remote control for your seat-back monitor.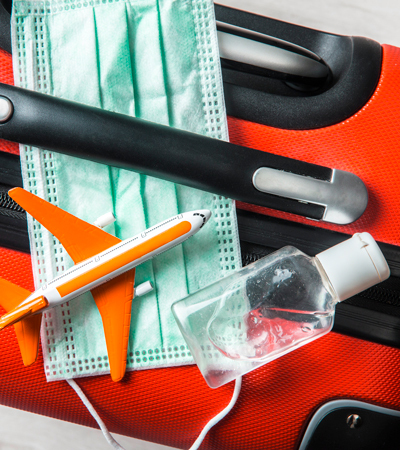 STAYING SAFE
Follow Airline Protocols: Airlines are taking their new health protocols very seriously to protect passengers and employees alike. Some airlines will deny boarding to those who do not comply with face covering mandates.
Protect Yourself: Although many airlines are providing disinfectant wipes or hand sanitizer to passengers, and some airline will provide a face covering if you do not have one, we recommend that you bring your own face covering, hand sanitizer and disinfecting wipes whenever you travel.
Inflight Safety: Keep your face covering on whenever possible and do not linger in aisles or galley when waiting for the lavatory.
Bring Your Own Snacks: We recommend that you bring your own snacks for your flight. You may also want to buy bottled water or other beverage before boarding your flight.
AIRLINE PROTOCOLS
Health and safety requirements vary across carriers and can change with little notice as conditions and scientific knowledge warrant. Please check with your carrier before your fly. Following are links to health and safety guidelines for many of the major airlines:
TAUCK AIR SERVICES
Here are the benefits when you book your international flights with Tauck:
• The fares are fully inclusive (taxes, fuel surcharges and more) – no hidden costs
• Significant savings on Business Class airfares
• We provide personal assistance in the event of an unexpected travel disruption or airline scheduling changes